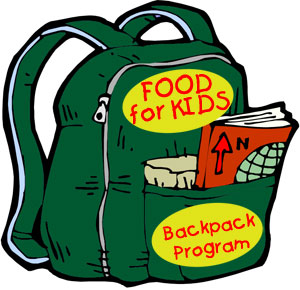 Here's What  We Are Doing!
Our new mission opportunity, the Klein School/Rolling Ridge School Backpack Program is progressing well.   Many of you have made the commitment to sponsor a child for the entire year!
This program is a way to make a direct impact on the lives of the children right in our own neighborhoods!  Plans are progressing as we hope to partner with Faith Lutheran Church to provide food items to those students who need food support over the weekend from Klein School.  It is possible we may partner with another church to do Rolling Ridge School. The program has started already with South Harborcreek United Methodist Church providing services to Clark School.
There is a monetary amount needed to support the program and we are asking for your support to accomplish this mission. The program is able to service (through the Second Harvest Food Bank) 25 to 40 students. The cost to provide food through the school year is $125 for each child. If you are able to support one or two children it would be a very worthwhile way to spread God's love to the children in our neighborhood. The Second Harvest Food Bank requests $5000 for each school participating. If you would consider assisting with any amount it would be appreciated, if you can support a child or two, that's FANTASTIC!  Please just mark your check "Backpack Program."